It's Time to Hit the Lake! Shop the Best Selection of Fishing Boats for Sale at Kooper's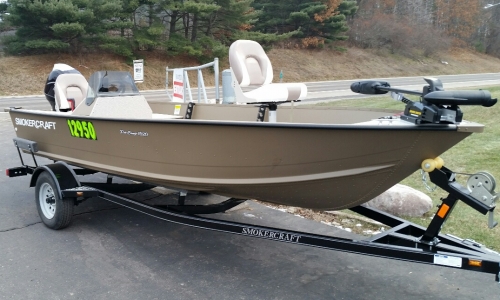 If you're settling in to the summer weather and looking to shop a massive selection of fishing boats for sale, Kooper's Marine has you covered! With the area's best brands – including Polar Kraft and Smoker Craft – we've become Kalamazoo's trusted supplier of high-quality fishing boats. We know that fishing is supposed to be relaxing, laid back, and – most importantly – fun! When you hit the lake, you want to be able to kick back, cast a few lines, and enjoy yourself. Because of this, we've focused on offering only the industry's most reliable boats, boats that you know will last a lifetime. In today's post, we're going to look at a few of the brands that we carry and – more importantly – discuss how they'll make your time on the lake more enjoyable!
Polar Kraft
An affordable option, Polar Kraft fishing boats are 100% aluminum welded and engineered to deliver a fun, safe, and memorable outdoor experience. Built in America, the company's boats have earned a reputation for their durability and longevity. Touted as the "toughest aluminum boats in the industry," every Polar Kraft boat is built by experienced, well-trained craftsmen who labor over every detail.
Smoker Craft
For five decades, Smoker Craft has been setting the standard for fishing boats. Aiming to provide customers with long-lasting, versatile watercraft that don't break the bank, their boats feature a one-piece bottom, hat-shaped ribs, and five keels. Purpose built for fishing, their boats also have an open floor plan, allowing ample space to move around, relax, and store equipment.
At Kooper's Marine, we're proud to offer the area's largest selection of fishing boats for sale. Whether you're looking for a small, mobile craft or a large, inviting pontoon, you can be confident that we'll work with you to find the boat that you need!