Learn What People are Saying About Kooper's Marine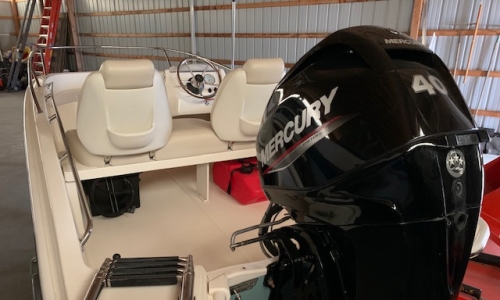 Kooper's Marine has been serving clients in Kalamazoo and the surrounding areas since 1979. We are a family-owned and operated business that takes great pride in the quality of the boats for sale and services we provide, which is why boaters from Portage, Vicksburg, Marshall, Grand Rapids, and all throughout Southwest Michigan depend on us to get them out on the water for summers worth of fun. Don't just take our word for it. Read further to find out what some of our many satisfied customers have to say about their experiences working with Kooper's Marine.
"Wow, can't say enough about this great experience. Purchased a pontoon from one of their customers, they had cleaned it up and helped us get it loaded on our trailer, that they modified for better pull, then went over some of the maintenance with us. Very knowledgeable and professional.  Highly recommend." – Lisa K.
"A big shout out to Brett for his personable and knowledgeable help in taking care of my storage and service needs for my Bennington Pontoon.  I would 100% recommend Kooper's Marine for any of your boating needs.  The staff was very professional!" – James S.
"The people here are so helpful and nice. I came in twice for a total of about $15 in parts but in fact the $5 O-ring was so rare that I had to get it from Grand Rapids but what I did get was the reference to a GR store that had it and mailed it, they did, as well as tips and ideas to help me fix my 85 4 cylinder Yamaha outboard motor." – Vicki
"I brought my old 3hp outboard in for service.  Very helpful and knowledgeable staff.  I spent an extra half hour there because they were so friendly and honest in their assessment as to my possible need to replace my 30 year old motor." – George H.
"I've purchased 2 outboard motors from Koopers over the past 20 years, one Honda and one Yamaha.   Both times, exceptional service and support.   Doug was great on answering all of our questions and helping with proper selection. Very thorough delivery and review of operations.    Plan to use Koopers for service and support.  Recommend highly!!!  Great local business." – T
"The whole experience was awesome. We love our new boat. Brett the owner is great to work with. Jim was great with the delivery. I would really recommend these guys for all your boating needs. Thanks again!" – Chris D.
Whether you are in the market for a new or used boat for sale, need boat repairs, or simple boat maintenance to prolong the life of your watercraft, contact the professionals at Kooper's Marine today.