Looking for Summer Fun? Invest in a Pontoon Boat Today!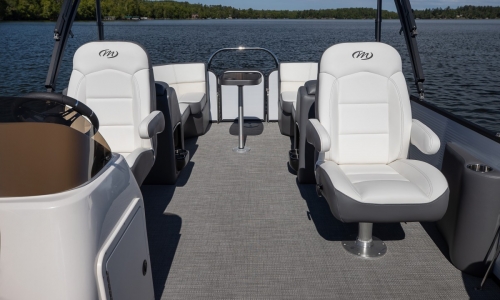 When it comes to summer fun, there's no better – and no more classic – activity than spending the afternoon on a pontoon boat. Enjoyed by families for years, they're the ideal vessel for fishing, reading, feasting, playing games, swimming, and much more. With the ability to carry more occupants than a speedboat, they guarantee a leisurely, relaxing time on the water. Best of all, the quality construction and reliability of the boats for sale at Kooper's Marine ensure that you'll be able to enjoy afternoons – and evenings – out on the water for years to come. In today's post, let's look at a handful of reasons why you should invest in a pontoon boat.
Low maintenance
Because pontoon boats sit so high in the water, they are incredibly easy to maintain. While you will probably still need to trim up the boat when putting it on a trailer, it's not always necessary. Additionally, they are extremely easy to clean and maintain after use, reducing the amount of time you have to spend trailering them.
Increased safety
Pontoon boats generally have a large, railed-in area where your family can gather and sit. Unlike speedboats, they aren't zipping around the water and making sharp, dangerous turns. Because of this, if you have smaller children, they are likely a safer option.
Storage space
If you like to tote a lot of things around with you on the lake, then a pontoon boat is for you! With ample space underneath seat cushions and a lot of wide open space, you won't have any trouble storing your fishing gear, extra life jackets, coolers, and much more.
If you're looking to hit the water this summer, there's no better time than now to start looking for a new boat! Visit the team at Kooper's Marine and let us help you find the perfect boat for you and your family.