Spend the Summer on the Lake with One of Our Fishing Boats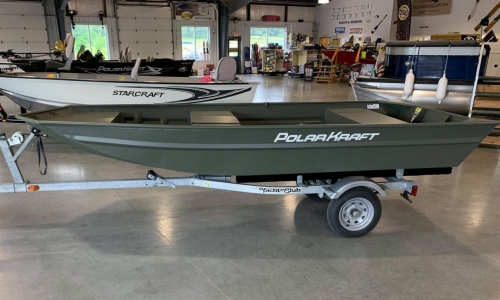 If you enjoy the peace and quiet of early morning fishing, Kooper's Marine has a great selection of fishing boats for sale. Whether you are a serious competitive fisherman, or you just want to throw a line in the water for relaxation, our experienced professionals will help you find the right fishing boat for your needs and your budget. We have new and used fishing boats from some of the most trusted brands in the industry, including Polar Kraft. Every boat we carry meets our highest quality standards, which is why we have become the premier source for fishing boats in Kalamazoo. You can rest assured that your fishing boat will provide you with a lifetime of fun on the lake. Contact us today for more information about our fishing boats for sale!
Polar Kraft
Polar Kraft offers top quality fishing boats made right here in the United States. With reinforced lids, a durable paint job, and marine-grade carpet, every boat that Polar Kraft makes looks great and is built to last a lifetime. Each boat is precisely engineered and constructed with aluminum that is cut with a computer-assisted plasma torch, resulting in consistent construction and some of the most reliable boats in the industry. Polar Kraft boats also offer unmatched performance with the V-Hull design that provides maneuverability and stability.
Store Your Fishing Boat With Us
In Kalamazoo and the surrounding areas, the time in which you can enjoy your fishing boat on the water is limited. Unfortunately, the room you have to store your fishing boat during the winter may also be limited. Kooper's Marine can help with reliable indoor boat storage to protect your investment. We have provided boat owners in with superior boat storage service since 1979. No matter what time of year it is, we can provide your fishing boat with the protections from the elements to ensure it provides you with a lifetime of fun on the lake. We can even assist with the service you need to get the boat ready to go back into the water when summer rolls around. Call us and ask us about the options available for storing your fishing boat today!
Whether you are looking for a smaller boat with better mobility on the lake or a bigger pontoon you can enjoy with family and friends, Kooper Marine has the best selection of fishing boats for sale in Kalamazoo. Our friendly, knowledgeable staff are ready to help you find the perfect boat, so call us today!