We Have Quality New and Used Boats for Sale in Kalamazoo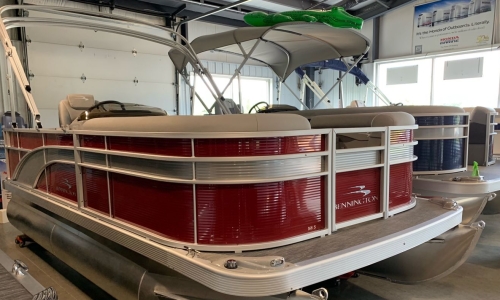 Kooper's Marine has a great selection of new and used pontoon boats for sale in Kalamazoo. While the colder weather is here and boating season is on hold for the holiday season, now is the perfect time to purchase a boat, so you are ready to get it into the water as soon as the weather cooperates. No matter if you are interested in a fishing boat to go after some bass, a speed boat for water skiing, or a pontoon boat for relaxing cruises around the lake, we always have great new and used options available. This makes finding the right boat to fit your needs and your budget that much easier, especially with the help of our friendly, experienced professionals. In today's post, we will discuss how Kooper's Marine has the best selection of new and used boats in Kalamazoo.
Superior Service Since 1979
Kooper's Marine have been leaders in selling new and used boats in Kalamazoo for more than 40 years. We always take the time to talk and listen to our customers, so we understand their entire situation, from what they need out of their boat to the budget they have for getting that boat. Once we know what you need from your boat, we can show you a number of options that fit. No matter if you want a boat to get out on the lake and catch fish or to relax on the lake and watch the sunset, we have the right options for you.
Boats from Manufacturers You Can Trust
We know that the boat you purchase is a significant investment, so you want to make sure that investment is one you can trust. At Kooper's Marine, we carry boats from the best brands in the industry, like Bennington, Polarkraft, Manitou, and more. Every used boat we sell undergoes a thorough inspection, so you can count on the boat being ready to hit the lake as soon as the warm weather returns. We can also provide you with a great outboard motor from reputable companies like Honda and Tohatsu to give you the performance you need out on the water.
Kooper's Marine has been putting customers into quality boats since 1979. We are committed to superior customer service, which includes winterizing the boat for storage and prepping the boat to get it back in the water for a summer of fun. Contact us and let us know how we can help you find a quality boat today.